WONDERS TO BEHOLD:
The Visionary Art of Myrtice West

Edited by Carol Crown

$50
hardcover
144 pages
full-color throughout
ISBN 0-914457-99-3

To order, call
901-355-4885
or email rollinriggs@gmail.com
Working in rural Alabama for seven years, Myrtice West painted the Bible's book of Revelation in thirteen large, vivid paintings. West's Revelations Series, exhibited in public only twice, is the subject of this book featuring essays by 17 renowned scholars and artists, including Ben Apfelbaum, Howard Finster, George Fowler, Miriam Fowler, Norman Girardot, Rebecca Hoffberger, Lee Kogan, Norbert Kox, Leslie Leubbers, Roger Manley, Ann Oppenhimer, Tom Patterson, Charles Rosenak, Gary Schwindler, Charles Reagan Wilson, and Benjamin Wright. The definitive work on Myrtice West and apocalypticism among self-taught artists, Wonders to Behold will appeal to everyone fascinated by visionary and "outsider" art, Southern Christian fundamentalism, and the furor over the new millennium.
SPECIAL LIMITED EDITION SIGNED COPIES STILL AVAILABLE!
Myrtice West signed and numbered 500 copies of the book. We have approximately 200 copies left. They cost $100 and can be ordered by calling 901-355-4885, or email rollinriggs@gmail.com.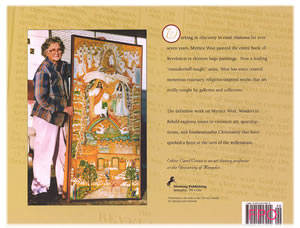 Outstanding reviews for Wonders to Behold:
"This evocative book…has brought West the attention that one of the preeminent contemporary Southern folk artists deserves. A well-executed interdisciplinary study."
The Southern Register
"A fascinating variety of perspectives… Wonders to Behold captures the visionary power of West's work and the passion of her faith in a well-produced and informative book." Raw Vision
"Provides a much-needed critical look at the field." Folk Art Messenger
"It transcends museum catalog constraints and hovers within the conceptualized realm that is all things visionary… This book is a wonder to be held." Independent Publisher
"This is not a picture book with a few lightweight essays. It is major league." Folk Art Finder
"Sumptuously illustrated, Wonders to Behold captures the artistic genius of Myrtice West." The Bookwatch
"Fascinating and evocative… This splendid volume is highly recommended." L'arte Naïve (Italy)

Contents
Foreword by Leslie L. Luebbers
A Letter from Myrtice West
Time Line: Myrtice Snead West
Introduction: The Revelations Series: Divinely Inspired, Evangelically Conceived (by Carol Crown)
The Story of Myrtice West and the Revelations Series (by Ann Oppenhimer and Chuck Rosenak)
Painting #1: Who Dare Record the Word of God (by George Fowler)
Painting #2: Thou Art Worthy O Lord to Receive Glory and Honor and Power (by Lee Kogan)
Painting #3: Who Is Worthy to Open the Book (by Norman J. Girardot)
Painting #4: Christ's Seals Broken (by Ben Apfelbaum)
Painting #5: Woman on the Moon Giving Birth to Christ (by Rebecca Alban Hoffberger)
Painting #6: Satan, Thrown out of Heaven, Lands on Earth (by Miriam Fowler)
Painting #7: The Beast Out of the Sea (by Howard Finster [as told to Carol Crown])
Painting #8: Satan Takes Over (by Roger Manley)
Painting #9: Song of Moses (by Tom Patterson)
Painting #10: Mother of Harlots (by Norbert H. Kox)
Painting #11:Christ Returns as Church Gets Ready; King of Kings and Lord of Lords (by Benjamin G. Wright, III)
Painting #12: White Throne Judgment (by Charles Reagan Wilson)
Painting #13: Christ and Bride Coming into Wedding (by Gary J. Schwindler)